What an exciting start of the week for the children! Children arrived at school today to find their school had been decorated with bunting, flags and balloons to kick start our week of Jubilee Celebrations!
Some of the teachers around school were looking at little different than usual…
We spotted HRM Mrs Wright and her friend in the Year 1 classroom!
We hope the children have a wonderful week learning about the Royal Family, Queens Jubilee, British Values alongside celebrations and more super surprises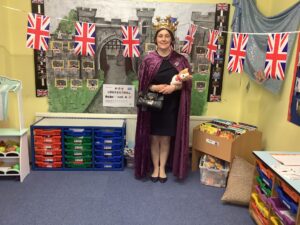 !